INTRO
Fiona Maxwell has worked with Piven Theatre Workshop for years as a performer, student, and teacher. While an undergrad at Northwestern, Fiona completed a thesis on children's theatre at Hull House and in doing so investigated the roots of Piven's technique. This month, we wanted to explore the idea of play, and thought Fiona would be a perfect fit!
BLOG POST
By, Fiona Maxwell
This year was given a quarrel between Winter and Summer. The scene opened with Winter upon his throne, guarded on one side by two thermometers, and on the other by two icicles. The snow queen, who had not been invited to a party, out of revenge had all of the guests frozen into ice. Their release through the machinations of the sunbeams formed the plot of the play, the sunbeams on one side against Jack Frost and snowflakes on the other.
A large ensemble of children from Chicago's Nineteenth Ward presented this Christmas entertainment in 1912 at the Hull-House settlement house. The young actors shared their work with their parents, and with multiple groups of child audiences drawn from the settlement and from across the city. The annual Hull-House Christmas plays were "usually composed by the children themselves, with the help of the residents," and the plot devised this year clearly showcased the participants' ample imaginations. This epic battle of the seasons operated within a dynamic world of youth dramatics at the settlement.
Jane Addams and Ellen Gates Starr, two young women from rural northwestern Illinois, moved into the Charles Hull Mansion, located in Chicago's Near West Side, on September 18, 1889. Within a month, the pair welcomed their new neighbors into Hull-House, Chicago's first settlement house and one of the first of its kind in the nation. Addams and Starr selected a rather neglected yet grand old house in the Nineteenth Ward of Chicago for their interpretation of settlement life. They joined a densely populated, industrial neighborhood of immigrants hailing from over a dozen different nations. Addams desired to bridge class and cultural boundaries through encouraging natural, neighborly relations between the settlement workers and the surrounding working-class, immigrant community. Hull-House accumulated volunteer settlement "residents" who provided direct services and embarked on wide-reaching social investigations, political crusades, and legal pressure. These initiatives were intermixed with daily educational and recreational activities, including dramatics, for neighbors of all ages.
Club leaders discovered that the children's "favorite occupation is listening to stories." Much less demanding of financial and material resources than formal theatre, storytelling and story dramatization simply required a capable teller, a child audience, and the engagement of listeners' imaginations. The tales were evidently well received and much in demand amongst the young audiences. Addams believed that for the club members, "There is no doubt that the more imaginative children learn to look upon the house as a gateway into a magic land, and get a genuine taste of the delights of literature." She described a boy who became so immersed in the stories that he fled from Hull-House in tears and refused to return, "now that Prince Roland was dead." Addams recalled the efforts of "the young girl who organized our first really successful club of boys, holding their fascinated interest by the old chivalric tales, set forth so dramatically and vividly that checkers and jackstraws were abandoned by all the other clubs on Boys' Day, that their members might form a listening fringe to The Young Heroes." For children, stories transformed Hull-House into a realm of play and imagination.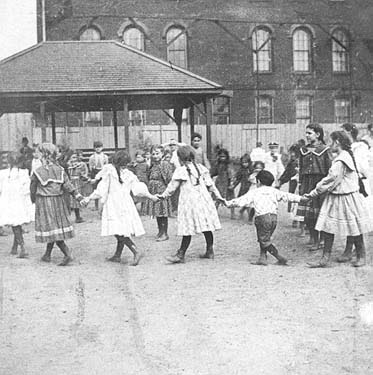 Moments of improvisation and dramatic play pervaded children's club work at Hull-House. Doll clubs gave young children an open-ended opportunity to craft their own narratives and imaginary worlds. Children also constructed puppets, for which they wrote plays and stories. Hull-House residents observed young people engaging in spontaneous dramatic activity at Bowen Country Club, the summer camp for settlement club members: "The children utilized their winter training to give musicals and outdoor theatricals to each other, improvising with much pleasure a fairy tale requiring a glen or dryad tree."
Hull-House also used drama to engage young people with disabilities. The settlement supplemented vocational dressmaking training for girls with physical and cognitive disabilities with recreational activities, and conducted "rhythm and sense games" with deaf children. Informal dramatics were featured in the classes for "handicapped and delicate" boys who could not participate in athletics or boisterous clubs. Throughout Hull-House's history, children with disabilities developed artistic skills and imagination through stories, games, and dramatic play.
The Hull-House Boys' Club used informal dramatics to reach out to neighborhood boys, especially juvenile delinquents. Juvenile Court probation officers met their wards at Hull-House and enrolled them in the Boys' Club. Club leaders formed groups from street gangs, seeking to redirect the "gang instinct" into positive outlets, such ensemble-based drama. Boys' Club members performed at Stunt Nights. Their comedic and performance skills merited the praise: "there is much talent among this group of boys."
Young people joined self-governing evening clubs at the age of fourteen. These groups enacted Shakespeare scenes, farces, and excerpts from plays and books for the sake of enjoyment, some limiting the audiences to fellow club members, close friends, and family members. Over the years, an increasing percentage of the evening clubs evolved from Hull-House's children's clubs. Versed in stories from a young age, as teenagers they translated this background into theatre. Older club members developed leadership skills through planning and executing dramatic activities.
Settlement leaders recognized that play, "from the child's point of view… is serious business." The same improvisational techniques taught at Piven – portraits, circle games, original stories, and more – have a long history stretching back to the nineteenth century. Process-oriented drama that focused on the educational benefits for participants, encouraged creative self-expression, and emphasized imagination and ensemble over competition and exclusivity, existed at Hull-House in children's clubs and classes from the very beginning. Theatre is by nature an event that must be experienced in the moment; improvisational, informal drama is, if anything, even more ephemeral. Yet, for the children of the Nineteenth Ward, many of whom left school and went to work in factories at the age of fourteen or younger, Hull-House offered a meaningful source of enrichment and an opportunity to expand their aspirations. The values put forward by children's dramatics at Hull-House live on today through the many young people in and around Chicago who continue to engage with and benefit from arts education initiatives.
Fiona Maxwell is a first year PhD student in History at the University of Chicago. She graduated from Northwestern University in 2018 with a BA in History and Theatre, and completed the module in Theatre for Young Audiences. She began studying at the Piven Theatre Workshop when she was eleven, and was a member of Performance Project and the Young People's Company. She has apprenticed and assisted for classes ranging in age from 4th grade through high school, focusing on story theatre, improv games, scene study, and storytelling, as well as for Advanced Performance Ensemble and PEEP.