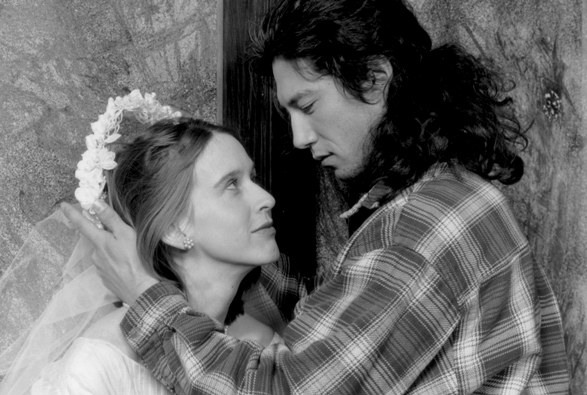 Brilliant Traces
Written by Cindy Lou Johnson
Directed by Joyce Piven
March 19, 1999 – April 25, 1999
Polly Noonan: Rosannah Deluce
Daniel Smith*: Henry Harry
* member Actor's Equity Association
Production Manager: Jennifer Sultz
Production Stage Manager: Greg Hirte*
Asst. Stage Manager: Mary La Plante
Co-Set Designer: Danila Korogodsky
Tech Director / Co-Set Designer: Mike Stevenson
Sound Designer: Joseph Fosco
Lighting Designer: Andrew Meyers
Scenic Painter: Daisy Castro
Costume Consultant: Liz Passman
Fight Choreographer: Peter Rybolt
Photographer: Lorry Robin
Graphic Design: Leah Oates / Jennifer Sultz
Never in My Lifetime
Written by Shirley Gee
Directed by Jennifer Green
October 31, 1999
1st Production of Piven's Inaugural Subscription Season
Julian Bailey: Tom
Craige Christensen*: Mother
Jeff McLane: Charlie
Justine Scarpa: Maire
Gita Tanner: Wife
Joanne Underwood: Tessie
Production Manager: Jennifer Sultz
Production Stage Manager: Sean Sheridan
Set / Costume / Prop Designer: Holly Eyman
Technical Director: Thomas Herman
Sound Designer: Joseph Fosco
Lighting Designer: Andrew Meyers
Dialect Coach: Eva Breneman
Photographer: Lorry Robin
Graphic Design: Leah Oates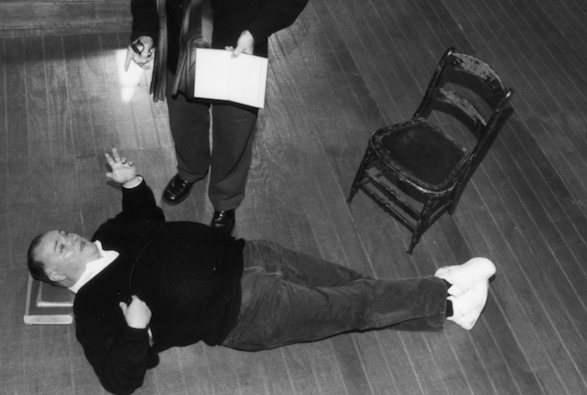 Punto
Written by Dick Cusack
Directed by Terry McCabe
November 20, 1998 – January 3, 1999
Byrne Piven*: Arthur
Matt DeCaro*: Warren
Francesca Vetrano: Anna
*member Actor's Equity Association
Production Manager: Jennifer Sultz
Production Stage Manager: Sean Sheridan
Tech Director / Set Designer: Mike Stevenson
Scenic Painter: Michelle Caplan
Sound Designer: Joseph Fosco
Lighting Designer: Andrew Meyers
Photographer: Bob Tanner
Graphic Designer: Leah Oates / Jennifer Sultz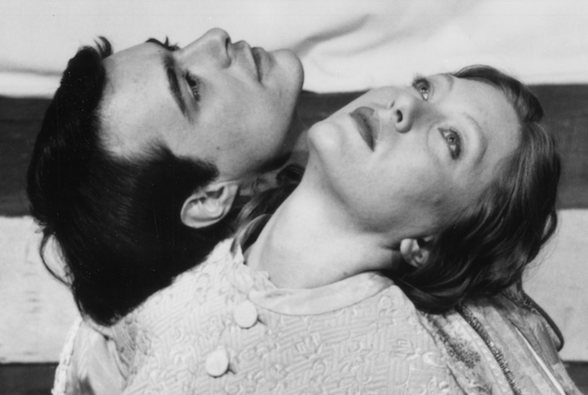 Orlando
Written by Virginia Woolf
Directed by Joyce Piven
Adapted by Sarah Ruhl
June 28, 1998
David Barack: Arch Duke
Jonathan Clark*: Poet/Singer/Shelmerdine
Susan Ferrara: Arch Duchess/Euphrosyne
Anthony Fleming III: Othello/Captain
Erin Higgins: Penelope/Savilla
Scot Morton: Orlando
Polly Noonan: Queen Elizabeth I
Justine Scarpa: Orlando
Gita Tanner: Sasha/Singer
Joanne Underwood: Desdemona/Clorinda
* member Actor's Equity Association
Production Manager: Jennifer Sultz
Production Stage Manager: Wendy Walshe
Asst. Stage Manager: Sherin Bennett
Prop Designer: Wendy Walshe
Set Designer: Jack Magaw
Technical Director: Mike Stevenson
Costume Designer: Beth Tallon
Sound Designer: Joseph Fosco
Lighting Designer: Byrne Piven
Lighting Consultant: Andrew Meyers
Choreographer: Toby Nicholson
Acrobatic Consultant: Sylvia Hernandez
Composer: Shira Piven
Court Dance Music: Michael Vitali
Photography: Lorry Robin
Graphic Design: Leah Oates / Jennifer Sultz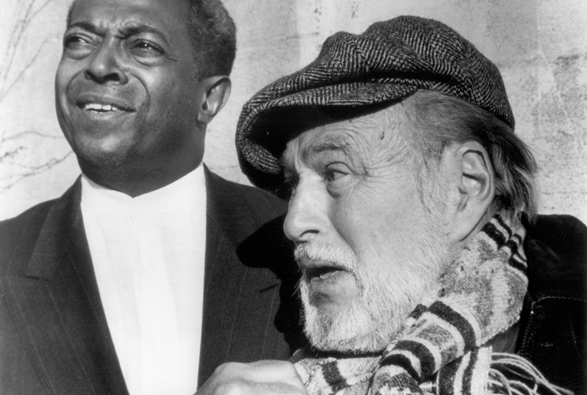 The Conversion of Leo Novotny
Written by Alan Gross
Directed by Chuck Smith
December 18, 1997 – February 8, 1998
Byrne Piven*: Leo Novotny
Cedric Young*: Daniel Madison
The Tate Singers: Parishioners
Paula Grissom: Gospel Piano
Gregory Hirte: Klezmer Violin
* member Actor's Equity Association
Production Manager / Administrative Director: Toni Moffett
Stage Manager: Michael Stock
Technical Director: Andrew Whelan
Set Design: Danila Korogodsky
Costume Design: Cecilia Rubalcava
Musical Director Gospel: Paula Grissom
Artistic Director: Bryne Piven
Co-Artistic Director: Joyce Piven
Top Girls
Written by Caryl Churchill
Directed by Joyce Piven
July 6, 1997
Lynne Baker: Waitress / Jeanine / Nell
Craige Christensen*: Pope Joan / Louise
Lynn Hirsch: Isabella Bird / Win
Kristin Randall: Hostess / Kit / Shona
Kathleen Ruhl: Dull Gret / Mrs. Kidd
Justine Scarpa: Marlene
Gita Tanner: Lady Nijo / Joyce
Joanne Underwood: Patient Griselda / Angie
* member Actor's Equity Association
Asst. Director: Jennifer Green
Production Manager: Jennifer Sultz
Stage Manager: Wendy Walshe
Lighting Design: Byrne Piven / Andrew Meyers
Set Design: Robert G. Smith
Costume Design: Cecilia Rubalcava
Choreographer: Gretchen Glader
Set Construction: David Schulte
Musical Consultant: Shira Piven
Dialect Coach: Gillian Lane-Plescia
Prop Design: Michael Stock / Wendy Walshe
Photography: Bob Tanner
Graphic Design: Eric Savlin
The Shoemakers
Written by Isaac Bashevis Singer
Directed by Shira Piven
Opened April 25, 1995
Produced in association with Famous Door Theatre
Adapted by & with Original Lyrics by Byrne Piven
Directed by & with Original Music by Shira Piven
Byrne Piven: Abba
James Schneider: Gimpel
Deirdre Waters: Pesha
David Engel: Getzel
Kris Edlund: Treitel
P. Adam Walsh: Godel
Gregory Hirte: Feivel / Lippe
Hakeem Hunter: Chananiah
Laura T. Fisher: Neighbor / Bessie
Mary Chaisson: Neighbor / Wife
Sheldon Baren: Rabbi / Mailman
* member Actor's Equity Association
Stage Manager: Lynne M. Harris
Set Design: Danila Korogodsky
Lighting Design: Jeff Pines
Costume Design: Sharon Sachs
Video Design: Miroslaw Rogala
Musical Director: Larrance Fingerh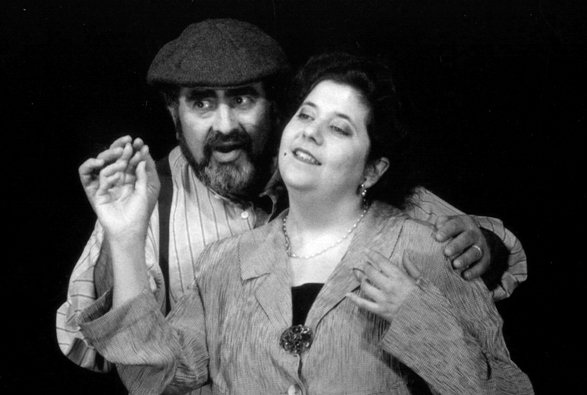 Sadie in Love
Written by Rochelle Distelheim
Directed by Joyce Piven
1995
Linda Burg: Sadie Schuster
Bernard Beck*: Herschel Diamond
Gita Tanner: Mitzi
Stephan Fletcher
Jennifer Green
Neal Grofman
Lynn Shapir
* member Actor's Equity Association
Set Design: Lynn Hirsch
Costume Design: Elizabeth Passman
Assistant Director: Nina Billone
Sound: Nina Billone, William Jones, Sarah Ruhl, Colin Rothman
Producing Director: Kristin Randall
Administrative: Jen Sultz
Violin: Jennifer Lacki
Choreographer: Lynn Saphiro
Dramature: Jen Green
Music Director: Lynn Shapiro
Stage Carpenter: Robert Quaintance
Light Design: Bryne Piver, Kristin Randall, Ben Simonetti
Stage Manager: David Spielfogel
Program Design: Kristin Randall
Box Office: Jen Sutlz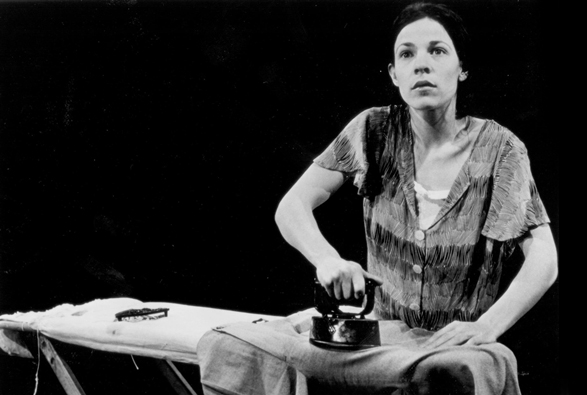 Mud
Written by Maria Irene Fornes
Directed by Joyce Piven
Performed at Victory Gardens Theatre
November 20, 1992 – December, 1992
Lili Taylor
Paul Quinn
Tom Webb
Michael Byrne
* member Actor's Equity Association
Stage Manager: Galen Ramsey*
Set Design: Bill Cusack
Lighting Design: Lee Kennedy
Costume Design: Allison Reeds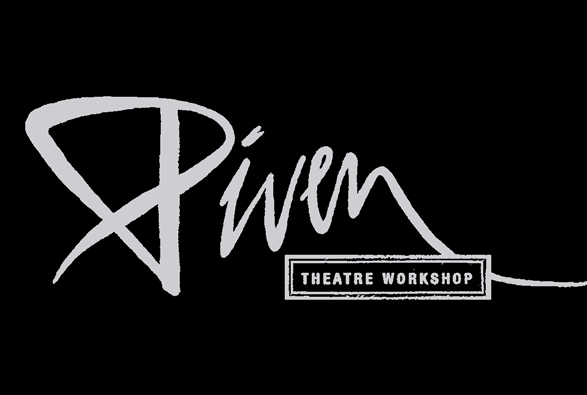 Chekhov: A Circle of People
Adapted & Directed by Shira Piven
May 22, 1992 – May 30, 1992
Stories: After the Theatre, The Dance Pianist, The Chorus Girl & The House with the Mansard by Anton Chekhov.
Anne Hubbard
Maeve Kanaley
Larry Novikoff
Michael Quaintance
Paul Quinn
Joan Ryan
Shira Piven
Rebecca Tennison
Stage Manager: Ann Lippert
Lighting Technician: Jen Green
Costumes: Jane Gilbert
Lighting: David Gipson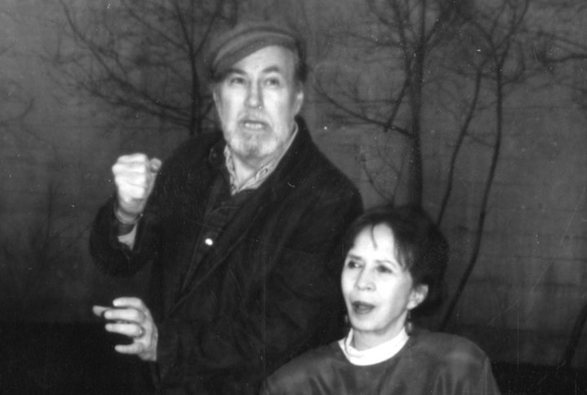 A Printer Landscape
Written / Adapted by Harold Pinter
Directed by Byrne Piven
April 24, 1992 – May 2, 1992
Stories: 6 Revue Sketches & Landscape
Byrne Piven
Joyce Piven
Nick Gillie
Katie Hanley
Rob Lamont
Scot Morton
Jake Mailey
Deb Seigel
Kate Walsh
Production Stage Manager: Dennis Kaiser & Ann Lippert
Lighting Design: David Gipson
Original Music: Shira Piven
Commedia Consultant: Jeremy Piven
Light Board Operator: Jennifer Green
Sound Operator: Ann Lippert
Costume Design: Jane Gilbert
Lighting Technician: Jennifer Green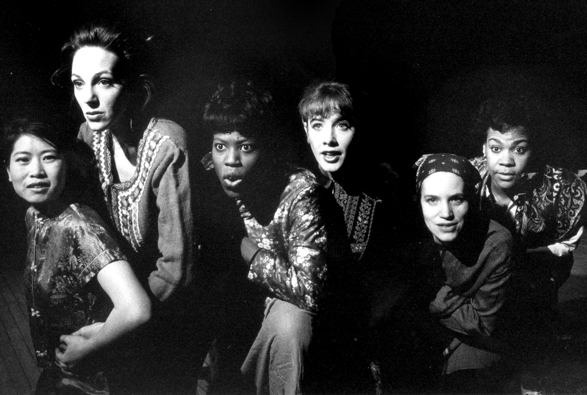 Mothers & Daughters
Directed by Joyce & Shira Piven
February 8, 1991 – March 2, 1991
Stories: A Stolen Party by Liliana Heker, The Shawl by Cynthia Ozick, What is Seized by Lorrie Moore, The Swan, Waverly Jong's Story, & Scar by Amy Tan & Beloved by Toni Morrison.
Lee Chen
Laura Cisneros
Gloria Bond Clunie
Ann Cusack
Marilyn Dodds Frank
Jenna Ford
Adele Robbins
Tria Smith
Thom Vernon
Production Stage Manager: Rachel Singer
Theatre Design: Byrne Piven
Set Design: Lynn Hirsch
Lighting Design: Mary & Tim Hynes
Costume Coordinator: Nora Lee Luttrell
Lighting Consultant: Bob Shook
Original Music: Shira Piven
Music Performed by Shira Piven & Andrzej Carney-Soltys
Women In Shakespeare
Directed by Shira Piven
1991
Teri Clark
Kate Churchill
Melanie Hoopes
Eugenia Ives
Ann Perry
Adele Robbins
Sheila Marie Robinson
Justine Scarpa
Musician: Tunji He
Producer: Eugenia Ives
Production Stage Manager: Ann Lippert
Set/Poster Design: Ann Lippert
Commedia Consultant: Adele Robbins
Lighting Design: Scott Entenman
Costume Design: Mary Michael Hanbury
Original Music: Shira Piven
Photographer: Lynn Hirsch
Lighting Technician: Jennifer Green
Macbeth
Written by William Shakespeare
Directed by Byrne Piven
1988
Byrne Piven:Macbeth
Joyce Piven: Lady Macbeth
Jeremy Piven: Malcolm
Gloria Bond Clunie: Witch / Hecate
Tim Burke: Fleance / Bloody Sergeant
Michael Byrne: Angus / Porter / Old Man
Hope Davis: Lady Macduff / Attendant
Ed Douglas: Duncan / Old Siward
Maya Friedler: Witch
Amy Galper: Witch
Tom Greene: Donalbain / Young Siward
Harry J. Lennix: Macduff / Bloody Sergeant
Tim Monsion: Banquo / Doctor
Paul Quinn Ross Wayne Sabato: Seyton / Messenger
Cherene Snow: Lennox
Piven Students: Alex Cohn / Lorne Lieb / Zack Mastoon / Scott Resnick as Macduff's son
Production Stage Manager: James A. Linduska
Set Design:  Michael Merritt / David Tennenbaum
Lighting Design: Lee Watson
Costume Design: Claudia Boddy
Video Design: Miroslaw Rogala
Sound Design: Jeff Bek
Prop Design: Dick Gregory
Mamet Festival
Written by David Mamet
Directed by Byrne Piven
November 7, 1985 – December 29, 1985
Stories: Good People, A Father, The Darling
Produced in association with Yale Wexler Productions
Byrne Piven
Shira Piven
John Aldridge
Bernard Beck
Dick Cusack
Mary Ann Thebus
Stage Manager: Merrill Holtzman
Set / Lighting Design: John Aldridge
Costume Design: Tom Donaghy
Sound Design: Robert Milburn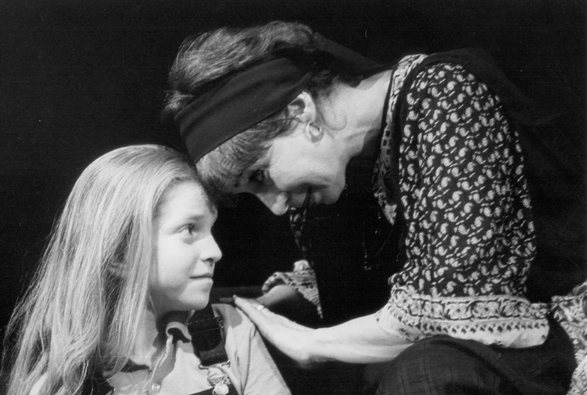 Singer & His Demons
Singer & His Demons
Stories by Isaac Bashevis Singer
Directed by Byrne Piven
1983
Bernard Beck*
Larry Coven*
Lynn Franklin*
Joyce Piven*
Michael P. Byrne
Joyce O'Brien
Karen Bachner
Adam Bitterman
Anna Caldwell
Robin Chaplik
John Cusack
Wendy Kanter
Lauren Katz
Claudine Kielson
Jordan Roseman
Dean Rosner
* member Actor's Equity Association
Production Stage Manager: Abby Farber
Set Design: Lynn Hirsch
Costume Design: Liz Passman
Lighting Design: Dan Rowley
Choreography: Sanna Longden Puppets by students at the Roycemore School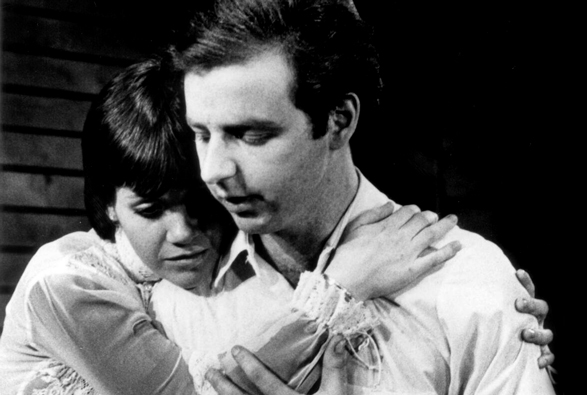 Something is There
Directed by Byrne Piven
1982
Stories: Artists at Home by William Faulkner, The Boarding House by James Joyce, The Princess by Anton Chekhov
Byrne Piven
Joyce Piven
Bernard Beck
Ann Mora
Aidan Quinn
Michael Byrne
Katie Moynagh
Joyce O'Brien
Set Design: Lynn Hirsch
Costume Design: Trina Ciuffo Bruce
Lighting Design: Tom Hagglund
General Managers: David Dillon, Nora Gaffin
Stage Manager: Tom Hagglund
Set Builders: Michael Byrne, Michael Ahern, Bruce Mistarz
Poster/Flyer Design: Barbara Holbert
Production Assistant: David Gethmann
Box Office Manager: Maureen Egan
Housemanager: Carol Fox
Administrative Assistant: Katie Moynagh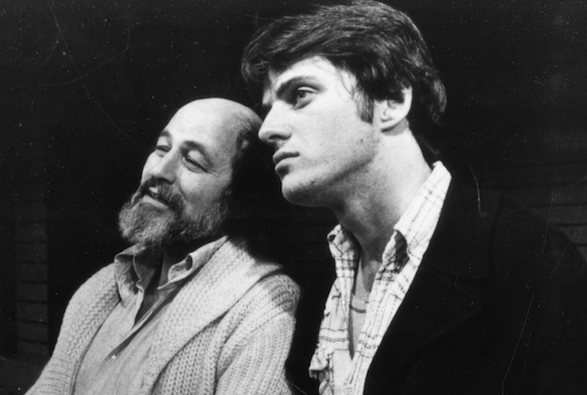 The Man in 605
by Alan Gross
Directed by Sheldon Patinkin
1977
Produced at the Theatre de Lys, New York City.
Originally produced & directed by Byrne Piven.
Originally performed by Aidan Quinn & Jeff Perry for the Piven Theatre production.
Byrne Piven*
Dick Cusack
William H. Macy*
Joseph Jefferson
Award for Best Actor
Stage Manager: Blake Levinson
Lights: Andy Meyers and David Gethmann
Assistant Stage Manager: Ryan Carrol
Technical Director: Stuart Flacks
Chairman of Chekhov Benefit: Maya Friedler
Co-ordinator of Chekhov Benefit: Sara Nesper
Photography: Bob Tanner
Box Office: YPC
Ushers: YPC
Chekhov: Some Family Portraits
Written/Adapted by Byrne Piven
Directed by Byrne Piven
1977
Stories: Good People, A Father & The Darling
Byrne Piven*
Joyce Piven*
Linda Balkin
Bernard Beck*
Remi Clignet
John Cusack
Donna Kantor
Lenny Wanger
Irwin Weil
Stan Winiarsky
* member Actor's Equity Association
Stage Manager: Ken Weeks
Set Design: Michael Merritt
Lighting Design: Robert Shook